Author-Signed Books
OVERPOWERING CHALLENGES THREATEN TO TWIST YOU into a chokehold. Frustrated, discouraged, maybe ready to quit?
Bend extends a hand in life's pressures to rise above the disruption and despair.
International journalist Beth Lueders introduces you to courageous sojourners- a wounded veteran, a Wiccan devotee, mothers of children with profound disabilities, and more-who've uncovered secrets to resilience through the unimaginable.
Riveting, and inspiring, Bend wrestles with anger, revenge, purpose, and hope. Bend explores how we really come back through adversity. Are unwavering determination and stay-at-it endurance enough? Discover how you too can finish stronger than anyone imagined. Recapture how to begin again with fresh strength and resolve as you sway, lean, and bend, but do not break.
$17.99
$4.50 (shipping, handling & tax)
"Bend is a source of inspiration to look beyond any difficult life circumstances, discover the beauty, and look to God, who is right there with you through it all."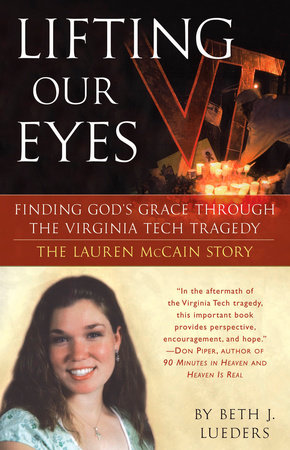 Lifting Our Eyes
FINDING GOD'S GRACE THROUGH THE VIRGINIA TECH TRAGEDY: THE LAUREN MCCAIN STORY
Virginia Tech's soul is in the ministry of Campus Crusade for Christ, which in turn found one of its strong hearts in an effervescent Christian student named Lauren McCain. Then on an unforgettable April morning, Lauren lost her life with thirty-one others at the hands of a gunman in the largest mass murder in modern U.S. history. But one thing couldn't be destroyed: an unyielding faith and spirit that lives on in Lauren's memory, one which she so joyously championed.
"In the aftermath of the Virginia Tech Tragedy, this important book provides perspective, encouragement, and hope."
—Don Piper, author of 90 Minutes in Heaven and Heaven Is Real
Two Days Longer
Discover More of God as You Wait for Him
We live in an age of instant gratification with on-demand solutions. Yet God chooses his own perfect timing. We humans want God to hurry up and he wants us to slow down. The Jesus who waited "two days longer" to travel to the bedside of his dying friend, Lazarus, is the same God who orchestrates delays in our lives today—so we can get to know and enjoy his immense character.
"I absolutely love this book! It's just what I need at this time in my life. Beth is an amazing writer and there's no other book out there like this. I'm sending a copy of Two Days Longer to all my friends!"
—Victoria Jackson, actress, comedienne, Saturday Night Live alumnus
Q&A with Point of Grace
Faith, Family, Friends, Dating and More
Young women today need straight, practical answers to questions of friendships, boys, dating, family, sex, suicide, and more real-life topics. Point of Grace vocal artists Denise, Heather, Shelley, and Leigh blend their own helpful advice with biblical insights to offer fresh direction and encouragement.
Celebrations of Faith
Tying Your Children's Heartstrings to the Truth
How do you keep your kids engaged in wanting to know God? Celebrations of Faith details simple, creative activities and ceremonies for for passing on faith to your children and grandchildren. The resource book shares a A Gift of Perspective, A Gift of Purpose, and A Gift of Protection to ground families in a living faith for today's times.
Ian Weikel was 31 and company commander of the 10th Cavalry Regiment, 1st Brigade Combat Team, 4th Infantry Division. Ian was killed in action when a roadside bomb detonated under his Humvee in Iraq. A little over three years later, military brass from around the world …